Software development
iOS / Android and other software development
About us
Codify Group is a professional full-stack mobile and web applications development including backend and API services based in Riga, Latvia.
Since 2006 we develop high-quality and cost-effective software solutions for internal and public needs. Our specialization is lightening fast projects in finance, banking, social, aviation, etc. business sectors.
We use only modern technologies stacks to achieve fast, secure, scalable business goals.
What we do
Programming is not only our job it is also what we love to do.
We are experts in:
iOS applications development

We help you build an iOS solution that reflects your unique brand voice. Our developers have the expertise and a vision to create an app suited for iPhones.

Android applications development

Our developers are committed to building the best possible Android apps as requested and within your designated budget. We don'`t compromise on quality.

Cross-platform applications development

We build high class cross-platform apps for iOS, Android or even Web with platform native UI using most modern technologies like Flutter or Ionic frameworks.

Progressive Web applications development

PWA Applications is a good opportunity to enhance your business. PWA technology gives you incredible performance and magnetic user experience.

Websites development

Fully responsive and lightening fast websites that fits any of your needs. No matter what your business goal, landing page, e-commerce or marketplace.

API services development

High performance and 100% stable API services with JSON or XML data output with monolith or microservice structure.
Philosophy
Our philosophy is built on three core pillars: Quality, Modern Stack, and Client Orientation.
Quality

We are committed to delivering high-quality software solutions. Our development process is centered around rigorous testing, code reviews, and best practices to ensure that every line of code we write meets the highest standards. Quality is not just a checkbox for us; it's ingrained in our culture.

Modern Stack

We understand that technology is constantly evolving. That's why we stay at the forefront of the industry, utilizing modern and cutting-edge technology stacks. We are passionate about staying updated with the latest trends and tools to provide our clients with solutions that are efficient, scalable, and future-proof.

Client Orientation

Our clients are at the heart of everything we do. We work closely with our clients to understand their unique needs, challenges, and goals. This client-centric approach allows us to tailor our software solutions to their exact requirements, ensuring they get the best possible value. We maintain transparent communication, involve clients in the decision-making process, and prioritize their satisfaction above all else.
These three pillars drive our company's mission to deliver software development services that exceed expectations, enable innovation, and empower businesses to thrive in an ever-evolving digital landscape.
Codify mobile application
In a middle of 2023 we released our mobile (iOS / Android) application for your projects monitoring simplifying.
Now you can download app and have full project flow control in your pocket.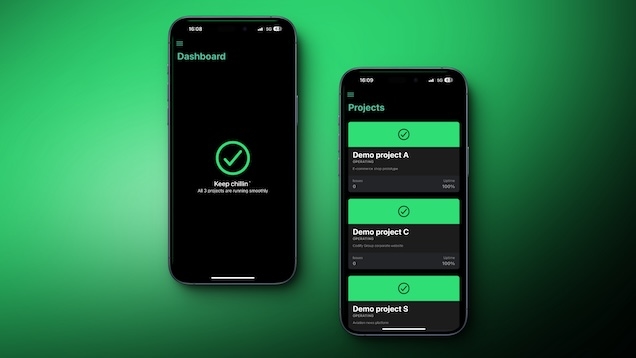 We are proud of our partners